Turbocharging in Volvo Drive-E engines

24.01.2020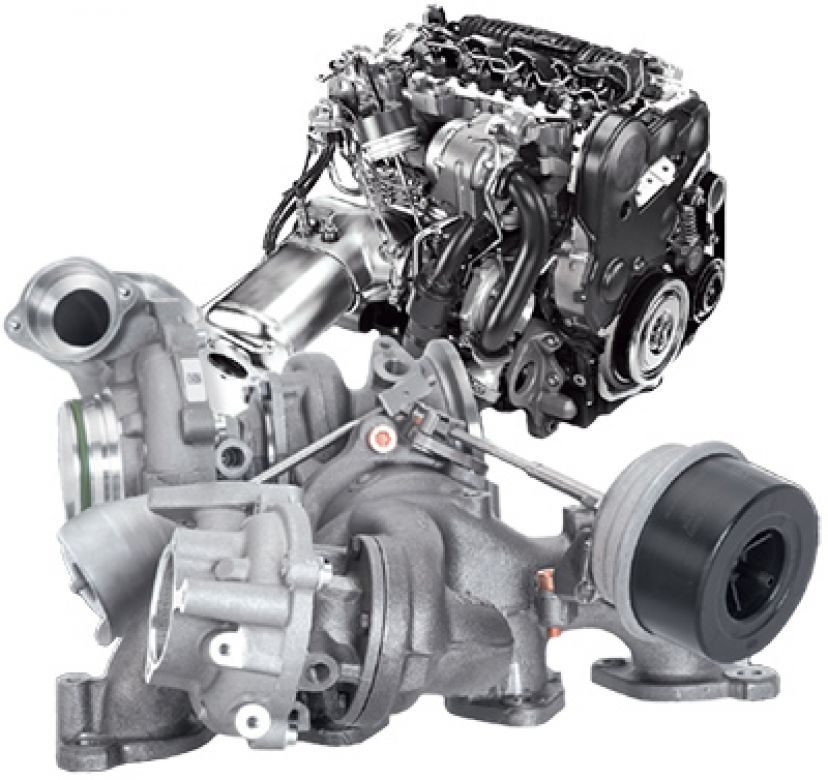 One engine, a lot of possibility: Drive-E engine is a revolutionary concept that Sweden Manufacturer of Volvo Cars is introducing in all its gasoline and diesel engines. Its based on 2.00 litres capacity, 4 cylinder drive unit. Different power levels are caused by the newest generation turbochargers, made by BorgWarner.
Target of introducing Drive-E by VOLVO was reducing of importance engine capacity. Every previous 4-cylinder, 5-cylinder, 6-cylinder and 8-cylinder engines will be replace by a compact, 2 litres, 4-cylinder drive unit which is much better than the older engines in fuel consumption and also CO2 emission. Due to newest technology it is possible without losing power and efficiency. In fact, efficiency of dynamic drive is really satisfied, you wouldn't expect more.
Turbocharger makes a difference.
All of new gasoline and diesel, Drive-E engines are constructed almost in the same way. Engines are built from the same materials and have very similar elements like a engine block or balance shaft module. Element that decides about power is fitted turbo system. BorgWarner as a old partner of Volvo was choose to designed turbochargers for all four gasoline engines and two stronger out of four diesel engines.
Two gasoline engines avialable, T5 and T6 have a K03 type turbocharger that fits wastegate and electronic pressure control valve. The turbocharging system is fully integrated with exhaust manifold and it is made from steel, just like manifold. Due to used materials construction is unusually light and compact which assures much better thermal isolation. T6 engine is setup with turbocharger with special compressor Roots which assures energy start and high torque even on the slow revolution. Turbocharged T6 engine reach 225kW (301HP) and impressive torque (400Nm). It is the best engine in its class. K03 turbocharging systems for all gasoline engines are manufactured in BorgWarner factory in Oroszlan, Hungary.
Two-sided turbocharged diesel.
First available D4 turbodiesel is equipped in two-sided turbocharging system (R2S), upcoming D5 engine is based on the same turbocharging system. Both made by BorgWarner. While KP35 turbocharger works with K16 turbocharging system, in D5 engine K16 turbine is integrated with variable geometry system BV40. Due to connect compact, high pressure turbocharger which generates high rise of power, starts from the lowest revs, with the big turbocharger of low pressure, Drive-E engine get a great reaction and high torque on wide range of engine revs. D4 engine reach 133kW (178HP) and 400Nm of torque. R2S system are producing in BorgWarner factory in Kirchheimbolanden, Germany.
CX90 is impressing with its "Twin Engine"
This will be absolutely top model on Drive-E engines list, pioneer drive unit called T8. It generates power on level 298kW (400HP) and 680Nm of torque. These are really impressive results with extremely low exhaust emission, 60g CO2/km. The secret is "Twin Engine". Volvo made a combination of turbocharged engine and electric motor with 60kW (80HP). This conception proves we can enjoy driving a car and protect environment. We don't have to choose between pleasure of drive and caring about environment now. Everything thanks to "downsizing" engines with turbocharging.
Long standing colaboration.
This ambitious and evolutional project from Volvo was a kind of challenge for BorgWarner designers and engineers but thanks to international team of experts and long standing, close collaboartion it became possible. The new Volvo, Drive-E engines impress not only by innovate solutions but also great effective, low fuel consumption and low exhaust emission.